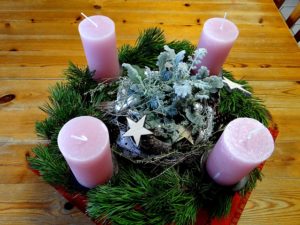 "Santa Claus is coming, to town…" Wait! Stop!
I know, I know; it probably seems that you've heard that Christmas jingle–and many others–play from the speaker system of virtually every store since, well, shortly after Labor Day. Retailers know their game:
"Let's put up the decorations and play those happy tunes, in the hopes that Almighty Dollar will arrive here soon!"
Or…
'Twas a month before Christmas when all through the store, not a shopper was restraining and so leaving quite poor…"
During Christmas season when my children were very young, Maureen, (aka, "Dancer") would hum along with the aforementioned tune and then belt out "TO TOWN!" with a voice that dwarfed her size. I always got a big kick out of her rendition.
But, of course, Santa is not the person for whom we are waiting…
O come, O come, Emmanuel
O come, Thou Wisdom from on high
O come, Thou Day-spring, come and cheer
O come, Thou Key of David, come
O come, O come, great Lord of might
O come, Divine Messiah
Dear Savior haste!
Come, come to earth
At Your great name, O Jesus, now,
All knees must bend, all hearts must bow
The Advent of our God
Our prayers must now employ,
And we must meet Him on His road
With hymns of holy joy.
As the title of this post suggests, the four sacred weeks of Advent prepare us for the celebration:
The anniversary remembrance of Christ's first coming, otherwise known as the Incarnation and the in-breaking of God into human history, which is represented by The Nativity and which we celebrate on Christmas (Christ Mass) Day:
The Mass readings for our Advent liturgy (Latin liturgia, for "public worship") make clear the anticipation of the Savior in the words of our Old Testament prophets and evangelists of the New Covenant:
Jeremiah: "The days are coming, says the Lord, when…I will raise up for David a just shoot…"
Psalmist: "…And for you I wait all the day."
Psalmist: "Marana tha! Come, Lord Jesus!"
And He came!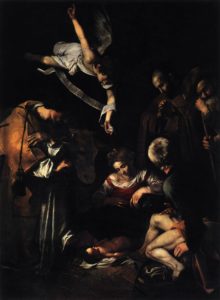 Caravaggio, 1600/1609?, Palermo, Italy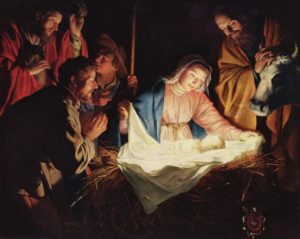 If we take a moment to consider this event and its significance, we should become overwhelmed by its awesome meaning. In his book, The Mystery Of Faith, Reverend Michael Himes ponders the meaning of the Incarnation when he meditates on St Paul's Letter to the Philippians (2:6-8) saying, "This is, without question, the most extraordinary compliment ever paid to being human."
The desire of God to become human should cement the dignity each of us was given at the moment God created humanity, a reality made clear in Genesis when God said, "Let Us make man in Our image, after Our likeness" (1:27), by making us creatures with moral reasoning, free will and the ability to have a relationship with Him.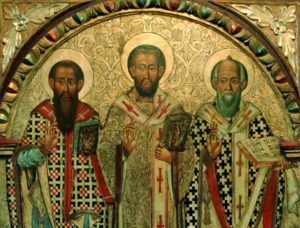 The Early Church Fathers wrote great homilies on the Incarnation of God. For example, St Ignatius wrote, "On this account also they (Old Testament prophets) were persecuted, being inspired by grace to fully convince the unbelieving that there is one God, the Almighty, who has manifested Himself by Jesus Christ His Son, who is His Word…"
How about you–and me? Do we believe? Do we give our free will assent to the God who descended into human history to become one of us? I hope we do, because only then can we truly say:
MERRY CHRISTMAS!!!
Amen
Tom