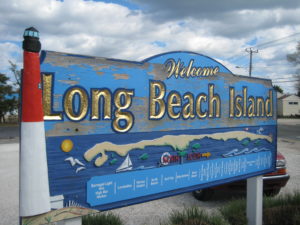 Each spring I look forward to the first beautiful weather weekend at the Jersey Shore, so I can strap my bicycle onto my car and make the trek to Long Beach Island–or "LBI" as we regulars know it–and take a two-wheeled tour. That activity is easier to do before the peak summer vacation season hits, when the population can increase from roughly 10,000 to close to 200,000! I try to remember to check the direction of the wind, so that I can avoid heading into it on the back half when my energy stores are low; but if I forget and have to slow down, it gives me more time to explore the neighborhoods, interact with some residents and visitors and get landscaping ideas for my gardens. And the inspiration has helped, as the photos below can attest.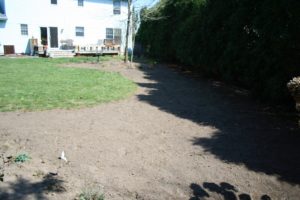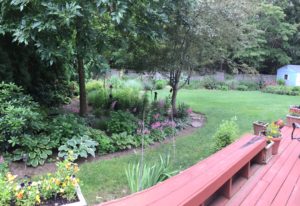 On this particular spring afternoon I drove to the north end of the island, and when I made the u-turn to park on the other side I saw that I was serendipitously in front of the Barnegat Light Historical Society and Museum.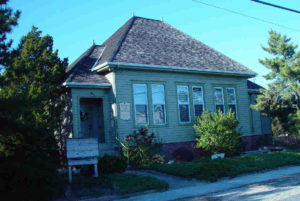 Enjoying history as I do, I left the bike on the car so I could take a quick look inside this small building. On my way to the front steps I turned to my left and saw the beginnings of an interesting garden, one that wound around the building; so I decided to take that detour, before going inside and learning much of the history of the town and the island.
I learned the details of the LBI's most famous landmark, Barnegat Lighthouse, including its original lens that helped guide seafarers to safe harbor. The weight of this piece required retrofitting massive beams underneath the old floorboards.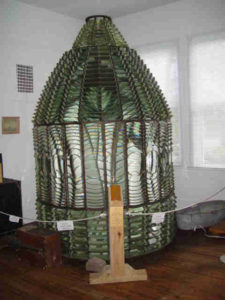 I then learned about how the changing tides and sand dunes had significantly altered the topography of the northern half of the island, to such an extent that an old incapacitated fishing vessel was eventually buried up to its mast. There's no wondering why archeologists have the patience to explore the rich history of cultures and civilizations (and maybe treasures?), those that time, tide, sand and dirt have covered.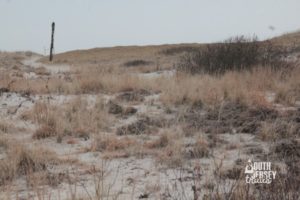 (courtesy of South Jersey Trails)
I checked my watch and saw that the friendly and informative conversations I'd had with two local historians had used up most of my bike ride time, so I decided to get in just three more sights: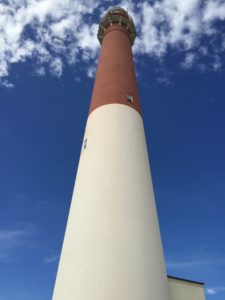 Standing over 160 feet, "Old Barney" requires 217 steps in order to make it to the top. On this day I did not scale this tower because of the time I took at the museum; but I clearly recall doing this with my children, many years ago. I remember very well the challenge of carrying Kevin part of the way, and then doing the same with Maureen just a few years later–in their very early years. Phew! I could only do that today if our lives depended upon it. But, what a view on a sunny day. I'm sure that over the years, many captains said the same thing when they struggled for guidance on foggy or stormy nights: "Phew! What a view!"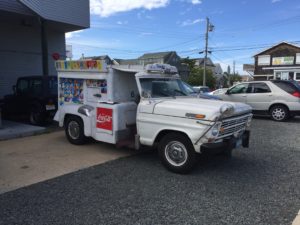 This beauty might as well be in the museum, since many years have passed since I last saw one on the road conducting business by making dreams come true for children in my hometown. Seeing this truck brought back a wave of memories about my childhood growing up in the Village of South Orange, NJ.
My siblings, friends and I spent many a day at Cameron Field, the public recreation complex. This was the place to be for socializing with friends and strangers, and a place where boys and young men had their mettle tested in a variety of contests: baseball, basketball, tetherball, swimming and the occasional fight. You could meander throughout the vast acreage and either find or lose yourself, watching the old men patiently play bocce ball, attempting to walk across the polished stones in the babbling brook without getting your shoes soaked or while lying on the vast slope of Flood's Hill to stare into the big sky: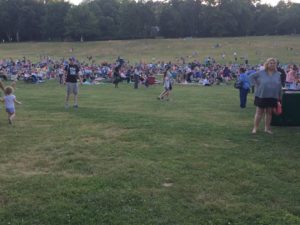 South Orange was a great town in which to grow up. And as the weather warmed, we knew only one thing could distract us from all these activities: the jingle bells of the Good Humor Man!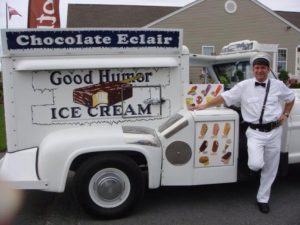 Had someone presented us a choice of either a Rembrandt portrait or the chocolate-covered popsicle painted on the side of the truck, the latter would have won hands down. The walls of the freezer vault were very thick as was its square door. When the man yanked that metal handle with his left hand and reached inside with his entire right arm, the anticipation of what he would bring out was heightened by the mysterious darkness inside and the smoke that immediately appeared. Unfortunately, since my siblings and I totaled eight money was scarce–especially for those of us toward the bottom of the count. Therefore we were usually observers of the melee rather than participants. Still, we could fantasize. During our younger years we might be allowed a fruit flavored popsicle, for two reasons:
they cost much less than the ice cream popsicles, with top-shelf flavors such as chocolate covered candy, toasted almond, strawberry shortcake, etc)
they were made with a groove down the middle, making them relatively easy to split in half! So not only did we get the lower-level popsicles, but we had to share them! Oh well…
That's enough of my reverie…
By far the main interest for me on this 18-mile strip of land is one that I associate more with a shrine to which I would make a pilgrimage, than what its face value would seem to suggest, and that is:
"Anchor Produce"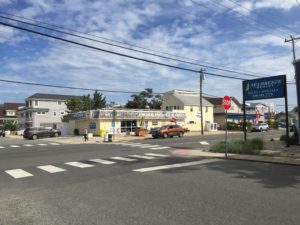 At first glance you might wonder what it is that I see in this brightly-colored but otherwise nondescript building that you don't see. Fair question; and the simple answer is, I know some of what goes on inside this emporium of the Garden State's productive farms. And the reason I have this prized knowledge is that my son has worked in this establishment for nearly a dozen summers since his junior year in high school.
Through his friendship with the family owners of this enterprise, Mike and Judy Nichols and particularly their two sons, Danny and Tim (elementary and high school classmates and football and wrestling teammates), I've had the good fortune to be regaled by stories about this or that aspect of the operation and then invited "behind the curtain" so to speak, to see how the machine runs so well–despite the seeming chaos and the occasional madcap antics of the young men (it seems that no matter the topography or material of the surface on which they stand, Kevin and Tim somehow convert it into a wrestling mat…).
On more than one occasion I've told Kevin, that the antics in this store make me want to write a novel, or perhaps a screenplay for television, that revolve around it, around the characters (family and staff) and around the always-pleasant and satisfied customers. The high quality food, prompt attention to detail and customer service has resulted in years of success, making me predict many more such years.
LBI is a wonderful place to be. Do yourselves a favor and head up, down or over (under would be the most interesting…) to this special place at 21st St & the Boulevard.
Oh, and what does all this have to do with God or faith? Well, I know the answer; but do you?
Amen.
Tom