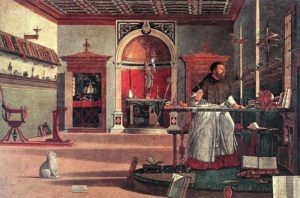 'Visione di sant' agostino' (vision of Saint Augustine) (1502) by Vittore Carpaccio
"I wept at the beauty of your hymns and canticles, and was powerfully moved by the sweet sound of your Church's singing. Those sounds flowed into my ears, and the truth streamed into my heart: so that my feeling of devotion overflowed, and the tears ran from eyes, and I was happy in them."
After you read this quote by Augustine of Hippo, does the word ordinary come to mind?  Not a chance. "But Tom," you say, "We are in Ordinary Time" (the We in this case is the Roman Catholic Church). "Ahh, true enough" I respond; "but it is also true that the Church defines Ordinary in a way that is clearly extraordinary to common English usage." For most of my life I thought the Church's Ordinary Time was, well, just ordinary. I thought of it simply as the continuation of the usual pattern of participation in the Blessed Sacrament and the Sacrament of Reconciliation, without realizing how purposeful, intentional and ordered my faith journey should be toward spiritual growth and the subsequent witness that growth would evidence. As usual, I had much to learn…
Despite its status as the lingua franca of the world, the English language sometimes has significant limitations. For example, when we speak of "love" we generally mean the romantic "in love" (although I have, on countless occasions, told my children that I love them). Yet the Greek language has four words that represent four types of love: Affection love, Friendship love, Romantic love and Divine love. Likewise,  the English "ordinary" refers to something common and of no special value, a definition that contrasts greatly with the definition used in the Roman rite of Catholicism. The Latin Ordinalis refers to a numbered series, and has Ordo as its root from which we get the English word order. Thus it is during this time of the liturgical year that we restore a regular order from the great feasts and central mysteries of Christmas and Easter, and their preparatory fasting and penance periods of Advent and Lent. Instead, as the Church teaches us, Ordinary time helps us understand how to live with Emmanuel ("God with us") as he walks among us after the Incarnation of Christmas, and then helps us prepare in watchful anticipation of the Second Coming of Christ after the Resurrection of Easter Sunday.
The spiritual growth that we and the Church experience after the Resurrection is symbolized by the green vestments worn by the priests and deacons.
Therefore, during the Ordinary season both the biblical passages and liturgical traditions help us to deepen our relationship with Jesus Christ, and walk his way. And it is from this encounter with him that we and our lives are transformed. Not ordinary at all!
Please share with me your experiences of transformation after Christmas and Easter, and if your new understanding of those extraordinary Ordinary times could make you echo the joy, happiness and blessedness of St. Augustine.
Amen
Tom